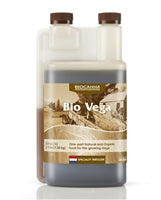 BIOCANNA Bio Vega
Bio Vega has been specially developed for the plants' growth phase. Bio Vega contains betaine and 17 detectable aminoacids. The bioactive substances in Bio Vega stimulate the root development and the formation of strong growth shoots. This allows plants to optimally start their blooming period.
BIOCANNA Bio Vega is certified by OMRI as organic and usable in the USDA's NOP program. As well as carrying the ECO Certification from Europe for such usage.
Bio Vega is currently not available in the state of California.