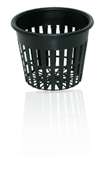 Score a hole in one -- or many holes -- with the Hydrofarm net cup. Holes in a planter or container may seem counterintuitive, but true hydroponics aficionados know that you've got to set your roots free. The many holes in the bottom of these cups promote healthy roots with even drainage. Letting the roots grow their own way, right down through the pot, allows for bigger, healthier roots. These cups work with any kind of media -- hydroponics or soil-based. They're also easier to clean, since water runs right through the holes.
If you've ever experienced hand cramp or fatigue, let our cups come to the rescue. You'll notice comfortably-sized lip along the top of these containers, making them easy to grab, lift, and transport.
Check out our full collection of these net cups, bucket baskets, and other containers to round out your garden supplies. Pack of 100.